Midnight Oiler (Film Universe)
Jump to navigation
Jump to search
The Midnight Oiler was a Fairchild C-119G cargo plane belonging to Kayla Watts. She used the plane to transport dinosaurs on the black market, often working for BioSyn and Soyona Santos.
During 2022, she used it during the Locust Plague to transport Owen Grady and Claire Dearing to BioSyn Valley to rescue their adopted daughter Maisie Lockwood. It was destroyed on approach by a Quetzalcoatulus.
It was replaced by the Midnight Oiler 2.
History
Locust Plague
Design & Modifications
Production Notes
Production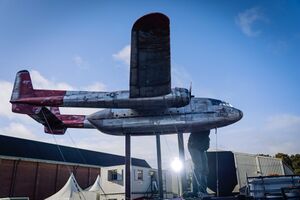 A working 18 foot miniature of the Midnight Oiler was created for the aerial shots of the film. Though it was capable of actually flying, this effect was never used.